Recipe for a Roadster Take 2
Intro
Back in 2013 I started working on the perfect "Recipe for a Roadster". After my previous project car came to an untimely end in a flood, I purchased a new one in the same color (Silverstone Metallic) and decided to start a new build blog. Unfortunately, other than pulling out a few dings and dents, re-tinting the windows, and basic upkeep, I haven't done much with the car since. I also never started the blog; hopefully, doing so will get me energized and back to rebuilding one of the best Japanese roadsters ever made. Before I begin, I'd like to update the recipe I started my previous build blog with:
A roadster should be light
A roadster should be cheap
A roadster should be simple
A roadster should be a convertible
A roadster should go around corners
A roadster should have 2 seats (maybe 3)
A roadster should have a long swooping bonnet
To add:
A roadster should have VTEC
2003 AP1 Honda S2000 Build
My new(ish) S2000 is a 2003, in the same color as my old 2001. I had affectionately named the old one "Lyra" after the constellation, so in keeping with this tradition I've decided to call the new one "Vela" (the sails).
When I took delivery of it in 2015 it had ~130,000 miles on the odometer and was more or less stock except for a Blox Racing shift knob and an Alpine receiver. The only mods I put on were mostly pulled off my old car: things like the hard top, Password:JDM front strut bar, Modifry DCI, Ricks custom floor mats, and dry carbon fiber radiator cooling plate. After missing my front aux port for a little while I also redid my 3.5mm audio install.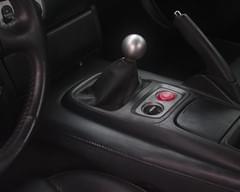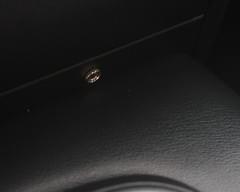 When the tires that came on the car got bad enough to be dangerous (and weren't going to pass inspection), I wrapped the stock AP1 rims in Pirelli P Zero Rosso tires: 205/55ZR-16 and 245/45ZR-16. I haven't done enough (read: "any") spirited driving since getting this car to know how they compare to the BFG g-Force Sport COMP-2's I had on my old car.
06 February 2019
I've wanted a set of SBC Enkei RPF1's for a long time, but they can be hard to come by in sizes that work on an s2000. I settled for silver on my old car, but after seeing another Silverstone S2000 with the SBCs on it I was determined to find a set for this car, and I'm happy to say that I finally took receipt of a set today! The fine folks at Taegeuk Autowerkz just down the road in San Antonio helped me out with the order; I'll definitely be using them again.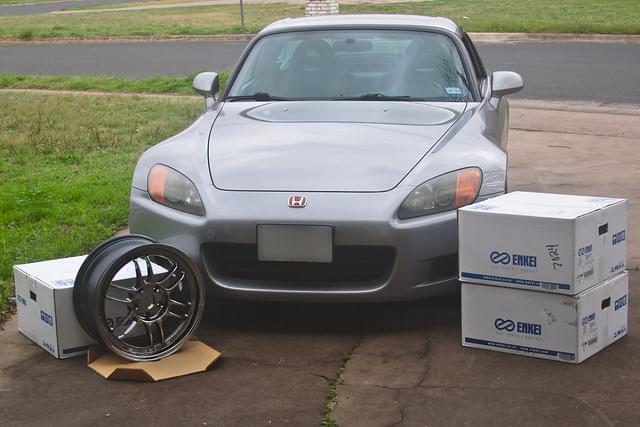 Instead of the 17×7.5+48 in the front that I did last time, I decided to go slightly wider in the front (17×8.0+45) and stuck with 17×9.0+45 for the rears.
On a less important note, my new stereo also arrived today. I'm replacing the old Alpine CDA-9857 that was in the car when I got it with a slightly newer digital media receiver: the Alpine UTE-73BT. I stuck with Alpine because my DCI seems to have the best support for their receivers, but if I'm honest I'm not super happy with them. Unfortunately, Alpine's lineup isn't very consistent and they don't have a product that meets all my requirements, not to mention that they're all covered in hideously gaudy LEDs and look like an 80's Tron rip-off gone wrong.
What I really want is something that works with my dash controls, supports digital radio, has rear AUX and USB inputs, supports Bluetooth 4.0, has tasteful lighting (if it has lighting at all), and has a screen that doesn't look like a dot-matrix printer from the 70s. The one I ended up with does almost none of those things, but it does work with my DCI and supports a newer (but still ancient) version of Bluetooth than the CDE-HD149BT I had in my previous car (which would have been an nice stereo if it had been updated since 2007 and didn't get nostalgic for the 90s and show you a spinning world animation every time you turned it on).
All that being said, when you set the colors to match the dash and turn down the brightness a bit it's tolerable: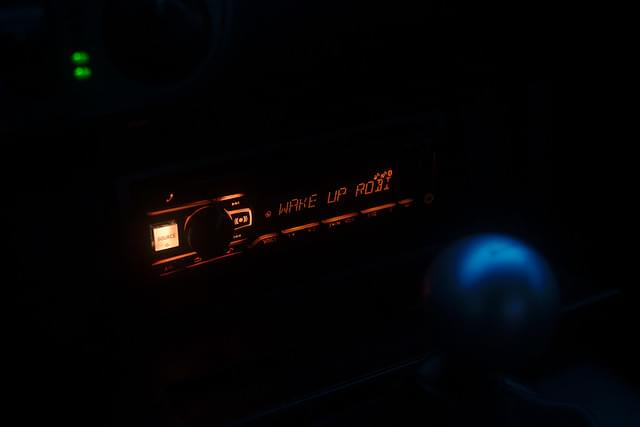 20 February 2019
I got the new Enkei's put on today, but am still considering what I want to do about center caps and whether or not I'll stick with the cheap lug nuts I got (Dorman). I ended up going with Firestone Firehawk Indy 500 tires: 245/40 in the rear and 225/45 in the front. SoulSpeed Performance did the mount and balance, and I'll likely go back and do an alignment to increase the camber sometime in the near future.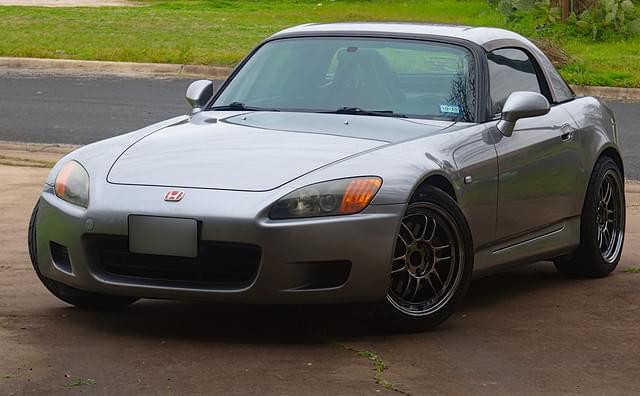 13 March 2019
I've had a bit of a rattle somewhere in the engine for a while which I assumed to be the TCT. It recently started to become a bit louder and more persistent so I decided it was time to replace the TCT before I threw the chain and destroyed my engine.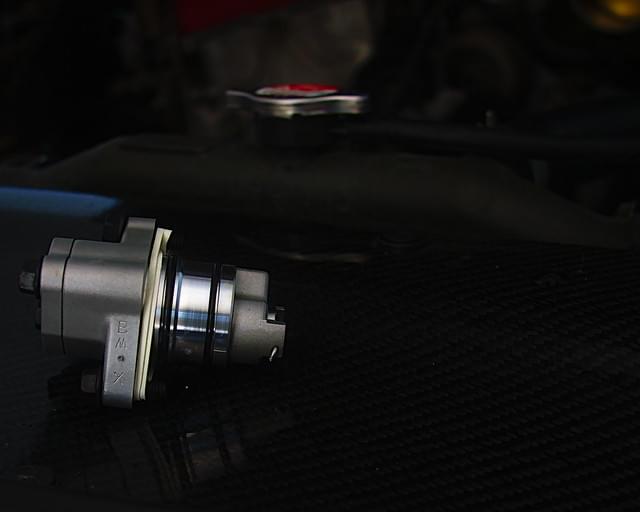 I normally wouldn't post pictures or update this blog for basic maintenance, but since the OEM TCT was known to develop this fault after as little as 20,000 miles, I wanted something a bit nicer to replace it with. I ended up going with the Billman GenX, a rebuilt unit that's custom built to order from the OEM unit and tuned based on your specific engine modifications, oil weight, etc. It's a tad more expensive than a new TCT from Honda or from an aftermarket race parts supplier, but it's also much better engineered.
25 March 2019
It took me a while, but my next step that I finally took was to get an alignment. As usual, I wish I hadn't delayed so long. I'd gotten used to how bad it was and didn't realize how poorly the car was tracking. I ended up going with no toe in the front and 0.1° on each side in the rear and -1.5° of camber in the front and -2.0° in the rear. I also maxed out the caster in the front (around 6.0° on each side). Everything is tracking much better now and it feels great to drive.
As usual, I had the folks at SoulSpeed Performance do the work and they did a great job.
21 April 2022
I haven't done much work other than basic maintenance on my car since moving back to Georgia in 2019. Unfortunately, after a partial career switch to get away from working for toxic tech companies I no longer have the money to properly maintain an S2000 and sold mine yesterday. Though I'm extremely sad, I'm glad that Vela will go to a good home that will take care of her.